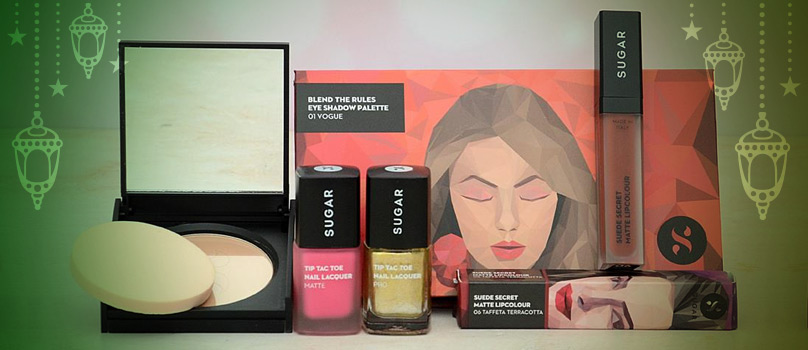 Gifting your girlfriend in India on a religious festival like Eid needs a little care and thoughtfulness. Keeping in mind the occasion as well as her traditional and religious sentiments, we have listed 9 useful items, that you can gift her on Eid.
There is no match for a fresh bunch of flowers when it comes to buying presents for your girlfriend. Staying away from her can be quite painful, especially during festivals and special occasions. Gifting her flowers in this situation can do wonders. Which is why we have listed some gorgeous bouquets of exotic flowers in our collection. We have intricately selected the best and the most ambrosial flowers such as orchids, gerberas, lilies and roses and transformed them into beautiful bunches and bouquets. The flower arrangements are done in an artistic manner with various decorative and designer papers and dainty ribbons and bows.

Chocolates and Sweets

Sending chocolates and sweets as a gift to your girlfriend in India can be a sweet and loving gesture. The tradition of exchanging sweets and edibles during Eid has been around forever. You can send her the best of chocolates and sweets from our inventory to fill her plate and pallet during Iftar. She would appreciate your token of love and savour them as well.

Not sure about meeting your loved one on this Eid? Don't forget to send her your regards. On this festive season, gift her a lovely box of dry fruits and nuts. Select the best combination of dry fruits for your girlfriend and help her break the fast even from far.

Makeup and Skincare

Eid is a time for decking up and looking great. Add to your girlfriend's carefully curated collection of makeup and skin care products as your Eid gift. With the best products in our inventory, now selecting the finest makeup and skin care items for her will be a cake walk for you.

Jewelry

It is that time of the year when everything around you glitters. Spread the spirit of festivity into your girlfriend's life by gifting her an attractive piece of jewellery from our site. We have carefully handpicked each item for our jewelry collection keeping in mind what any woman would love to get. With a wide collection in our site, now you can choose the finest designs that would look good on your lady love.

This Eid, impress your girlfriend with a beautiful, sleek and stylish watch. We have listed some awesome watches that every modern yet traditional woman would love to possess in her collection. Our website has renowned brands like Titan, Timex, Fossil, and much more to select from. Let her be reminded of her prayer timings all through the year with this watch so that she can grow spiritually.

A perfumes is a unique gift to send to your girlfriend on Eid. She would cherish your thoughts every time she wears it. We have upgraded our list of perfumes with fragrances that are sophisticated and would blend in with any woman's personality. Reputed brands like Bvlgari, Versace, and Burberry are there in our website for your beautiful lady.

Shoulder Bags

A shoulder bag can be an extremely useful gift since girls have to carry a lot of items with them. A clutch can obviously amplify the style statement but a light weighted bag with more capacity serves the purpose of carrying things around better. So this Eid you can send your beloved one a beautiful shoulder bag that she could use while going to college or even work.

Portable Quran Speaker

A portable Quran speaker is not only an invaluable gift for your girlfriend but also a perfect combination of faith and technology. With this beautiful speaker, she can listen to recitals or readings from the holy Quran as often as she wants. With the option of portability, she can carry the device and listen to any verse or portion from the holy book even on the go. Gifting one of these would certainly win her respect on this auspicious day.